More Opportunities for Industry to Support API Solutions
There are many opportunities for the industry in building a Digital Government to accelerate the delivery of end-to-end digital services to benefit citizens and businesses. IRAS is collaborating with Digital Partners on API solutions and innovative technology to create and optimise tax-related services.
Fostering Partnerships at Inaugural Digital Partners Meetup
As part of our efforts to connect with our Digital Partners, IRAS organised our first Meet Up on 22 Nov 2018. The event brought together more than 70 guests, representing 50 Digital Partners, to network and explore more opportunities to collaborate and co-create API-enabled solutions, which enhance the effectiveness and efficiency of businesses.
"The session is not only meant to celebrate IRAS' success in implementing API and recognise early adopters, it's also a platform to exchange ideas." shared Ms Tang Wai Yee, Assistant Commissioner, Infocomm Division, in her opening remarks.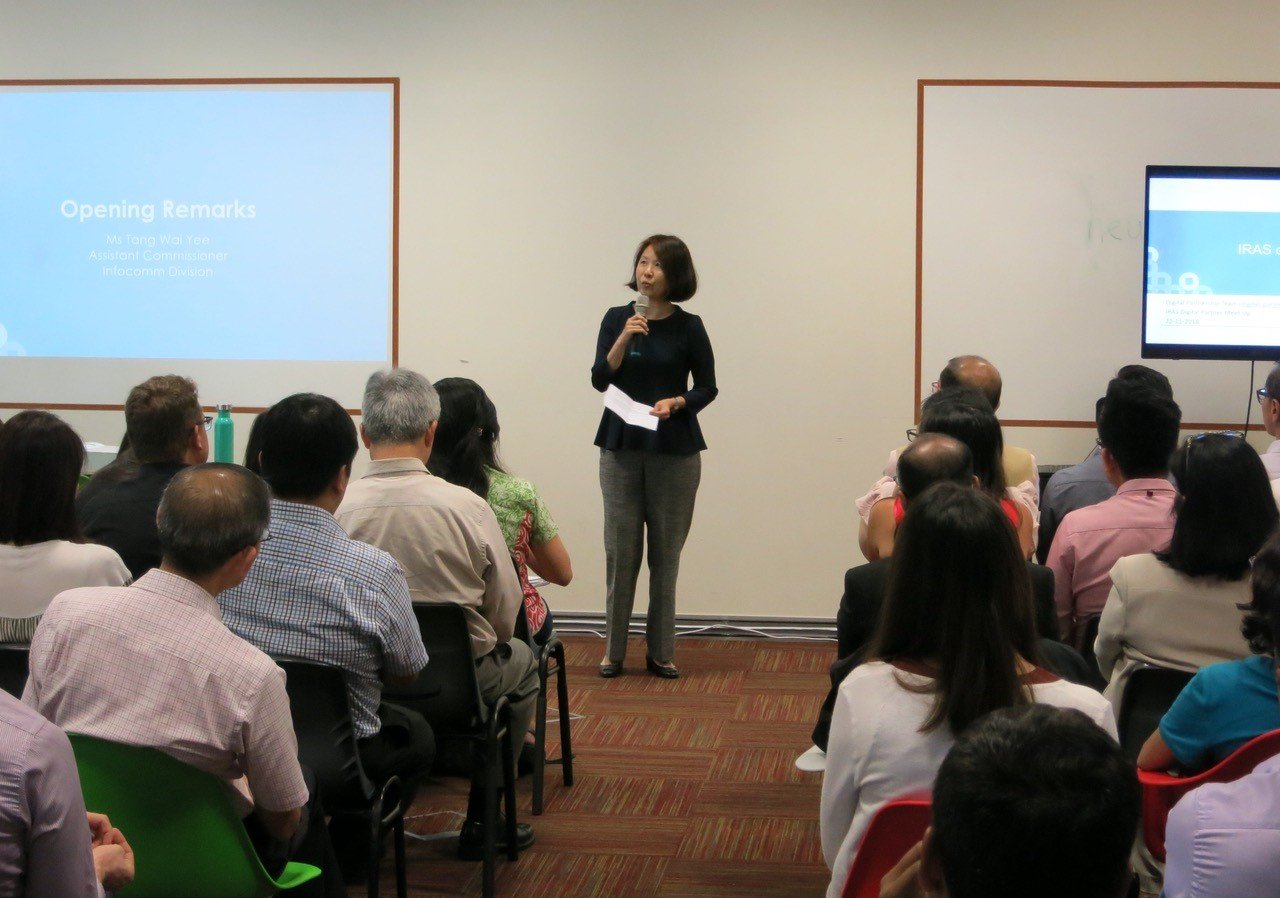 Opening address by Ms Tang Wai Yee (AC-INFOD)
Hearing from our Digital Partners
We invited our Digital Partners, who represent industry players from the Accounting and HR software segments, to share insights into collaboration opportunities with IRAS based on the two API pilot projects, which involved seamless submission of employment income records and GST information to IRAS.
The panelists also shared compelling use cases for combining industry expertise with API solutions, and how the technology is being deployed in digital services for accounting, payroll (and related domains) in a digital economy.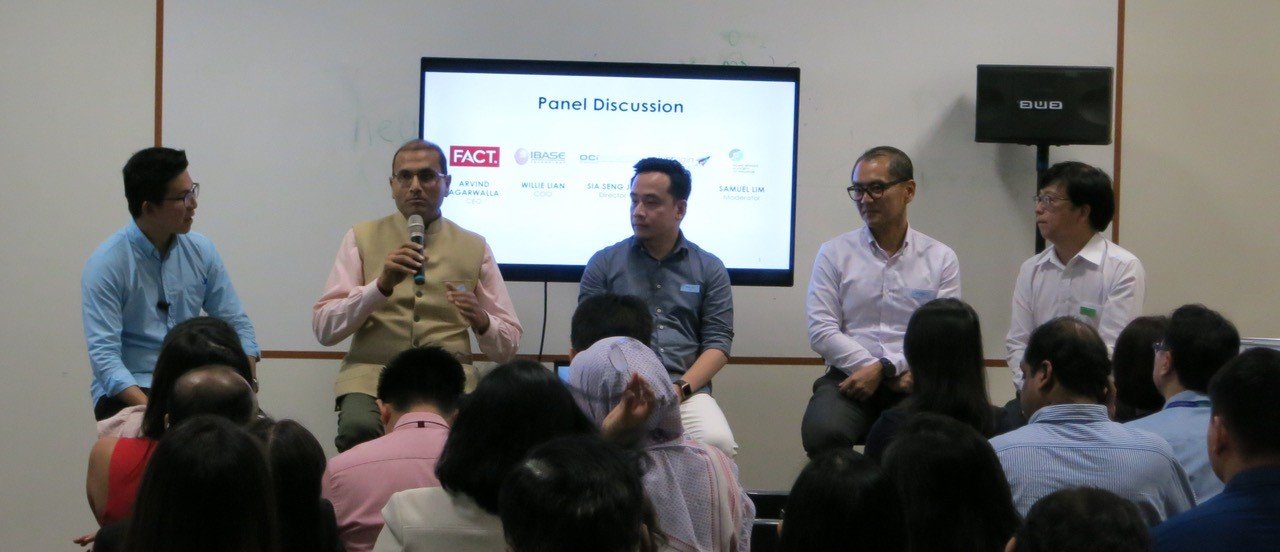 Panel Discussion Speakers (left to right): Mr Samuel Lim (Moderator); Mr Arvind Agarwalla (Founder & CEO, FACT Software International Pte Ltd); Mr Willie Lian (COO, IBASE Technology Pte Ltd); Mr Sia Seng Jin (Director, OCi System Pte Ltd); Mr KC Kwa (CEO, JustLogin Pte Ltd)
"Every software provider has its own core competencies, but we cannot innovate in isolation. Having APIs allows us to integrate with each other and offer more features that leverage each other's strengths, which collectively brings more value to the end-consumer. I encourage fellow digital service providers to collaborate and co-create with IRAS, other government agencies and industry peers" – Mr Sia Seng Jin, Director, Oci Systems Pte Ltd

"When you do something for the first time, there are bound to be teething issues on both sides. I would like to commend the IRAS team for their responsiveness during the pilot process. The documentations were clear and the team provided timely responses to our queries. This has helped us troubleshoot issues together and successfully complete the pilot. We are proud to partner with IRAS and be amongst the first ERP Software developers to enable our users to file the GST Return with transaction listing, directly from FACT ERP.NG." – Mr Arvind Agarwalla, CEO, FACT Software International Pte Ltd

"I would like to congratulate IRAS for being the first, if not one of the first government agencies to enable software solutions like ours to connect via API. This has enabled us to offer a more seamless, one-click filing experience to our clients." – Mr KC Kwa, CEO, JustLogin Pte Ltd

"The overall pilot experience with IRAS was good. IRAS was quick to escalate issues, and kept us updated on fix deployments so that we could guide our clients with confidence." – Mr Willie Lian, COO, IBASE Technologies Private Limited
Future Plans
IRAS will be introducing more seamless filing initiatives for businesses, individuals and foreigners. Plans are also underway to enable authentication and authorisation capabilities for API submissions by leveraging Singapore's National Digital Identity infrastructure (i.e. SingPass and CorpPass).
As one of the first government agencies to roll out APIs and enable authenticated API services, Digital Partners working with IRAS would be at the forefront of co-creating digitalised government services.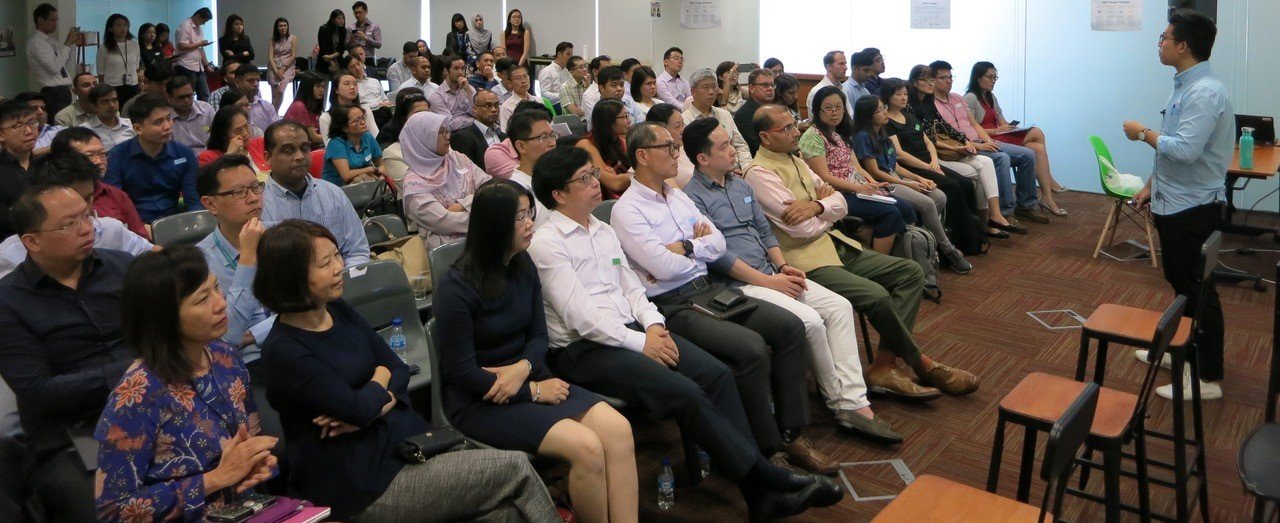 Digital Partnership Team sharing about IRAS' collaboration with the community
We would like to invite more Digital Partners to explore the APIs on our API Marketplace and respond to our calls for collaboration in 2019, as we take bigger strides in shaping the future digital tax experience together.
Check out the latest APIs on our API Marketplace or try them out in our Sandbox.

Have an API idea?
Submit your use case using this form or contact us at [email protected].