At IRAS, we continue to engage Digital Partners on API solutions and innovative technology to create and optimise tax-related services. A second meet-up was organised in July due to overwhelming response from the first session.
"Today we welcome over 100 of you, representing 70 Digital partners, to journey together in the co-creation and integration of more API-enabled solutions into our natural systems," said Mr Jimmy Ho, Director of Enterprise Digital Solutions (EDS), in his opening remarks.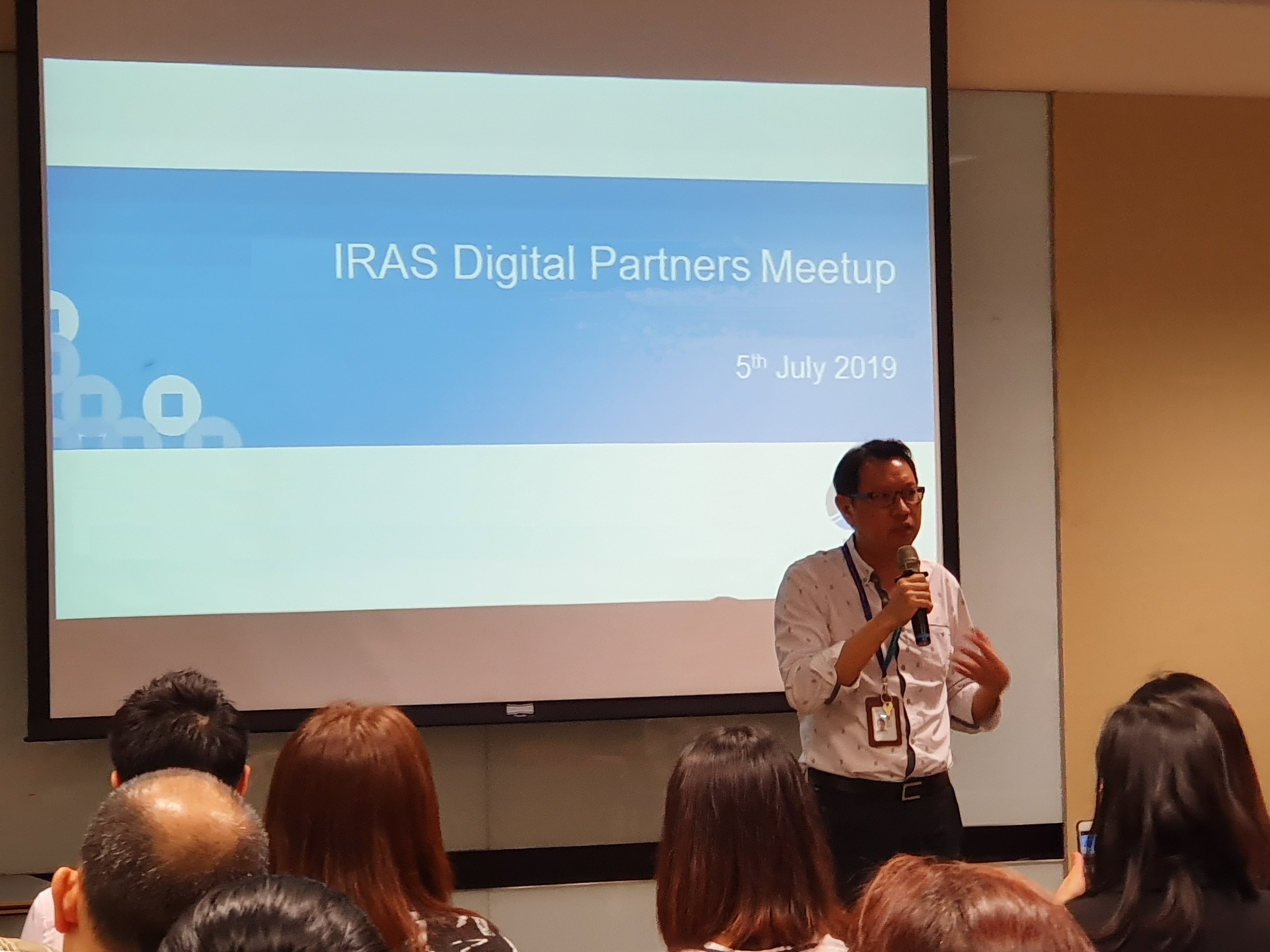 Mr Jimmy Ho (D-EDS) opening the event.
The line-up for the event included sharing sessions on the first IRAS API Roadmap, upcoming digital initiatives and IMDA's SME Go-Digital Programme, to assist partners in planning their collaboration efforts with IRAS.
Integrated and Inclusive Call for API-Enabled Solutions
During the briefing, Mr Sabri Harharah, Senior Infocomm Specialist at IRAS, shared the API Roadmap including details of new APIs that IRAS would be releasing in upcoming industry collaborations.
"The API Roadmap charts a path forward for IRAS and Software Developers to collaborate and co-create new tax experiences for taxpayers. It also helps our partners to plan ahead and take part in IRAS' digital initiatives to integrate tax seamlessly in natural systems. Adopting an outside-in approach, the roadmap is built on engagement efforts between IRAS and the community to understand the changing shifts in businesses and their day-to-day activities, so that an aligned value can be realised to create innovative solutions for our taxpayers," said Mr Sabri.
He also highlighted that IRAS would work to develop capabilities and a variety of value-added services which would make use of the National Digital Identity (NDI). Through APIs and data sharing done right, this would help software developers integrate tax seamlessly into various domains that would benefit both small and large businesses, including accounting, payroll, property, corporate and tax services.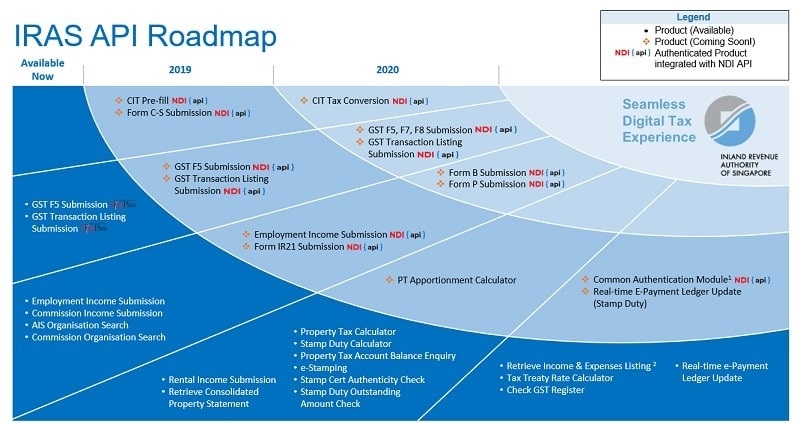 1The Common Authentication Module refers to the National Digital Identity APIs. (E.g. Singpass/Corppass)
2Retrieve the list of allowable and disallowable business expenses categorized by the profile of the taxpayers for calculating the adjusted profit/loss
(Accurate as of 5 Jul 2021)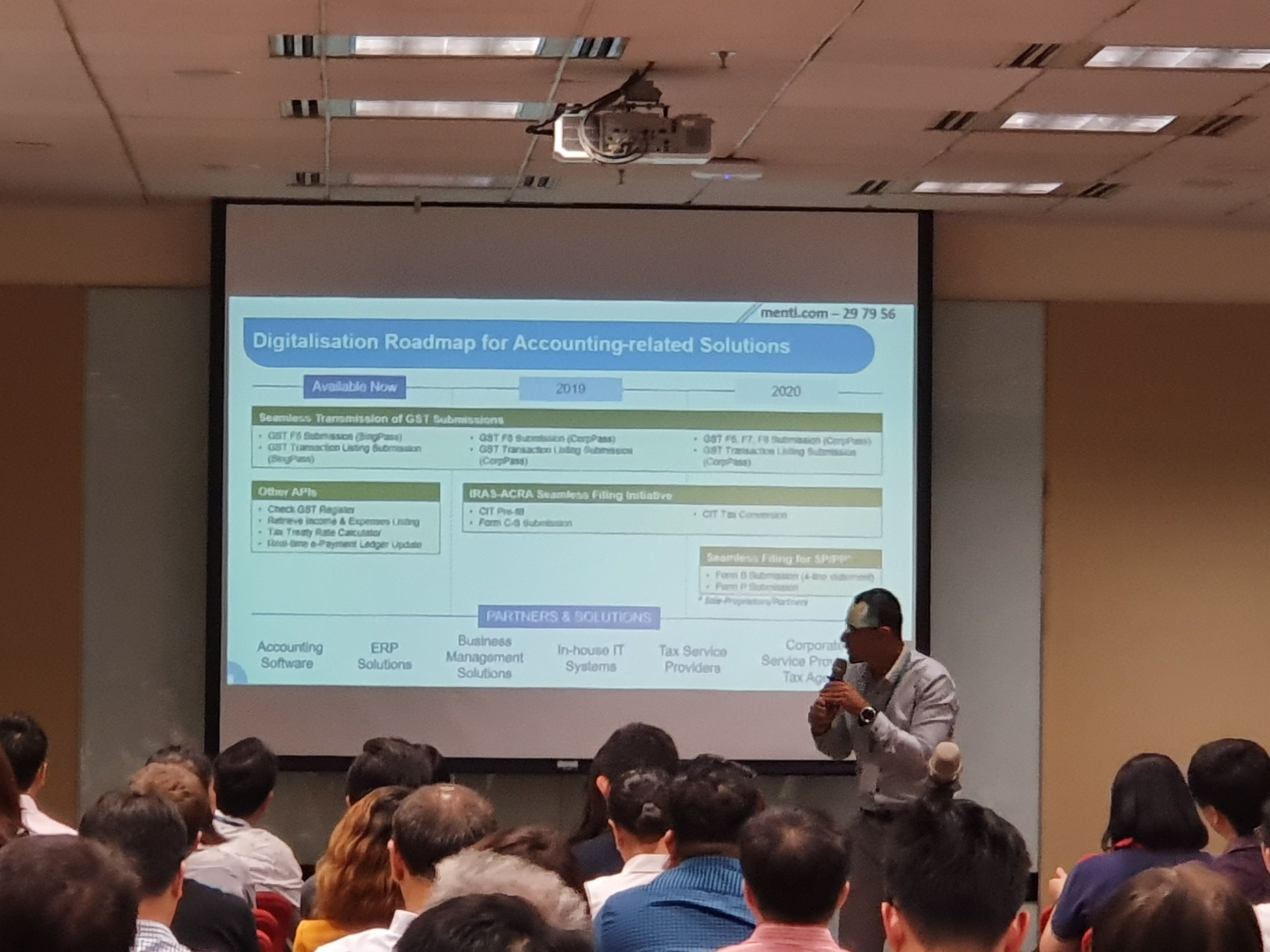 Mr Sabri Harharah (INFOD-EDS) presenting IRAS API Roadmap.
While API-enabled solutions have already taken off, this roadmap aims to further accelerate the adoption of such solutions and hopes to extend collaborations to partners of different sizes and areas of expertise. "Having heard about the early successes of the GST APIs pilot and exciting plans lined up, we welcome all interested software developers to come on board, so that your clients can also benefit from a seamless tax filing experience! We urge everyone to get ready GRADUALLY, instead of SUDDENLY when the needs arises, so you can be better prepared," said Mr Jeremy Loo from the GST-Wholesale Trade Team.
WOG Collaboration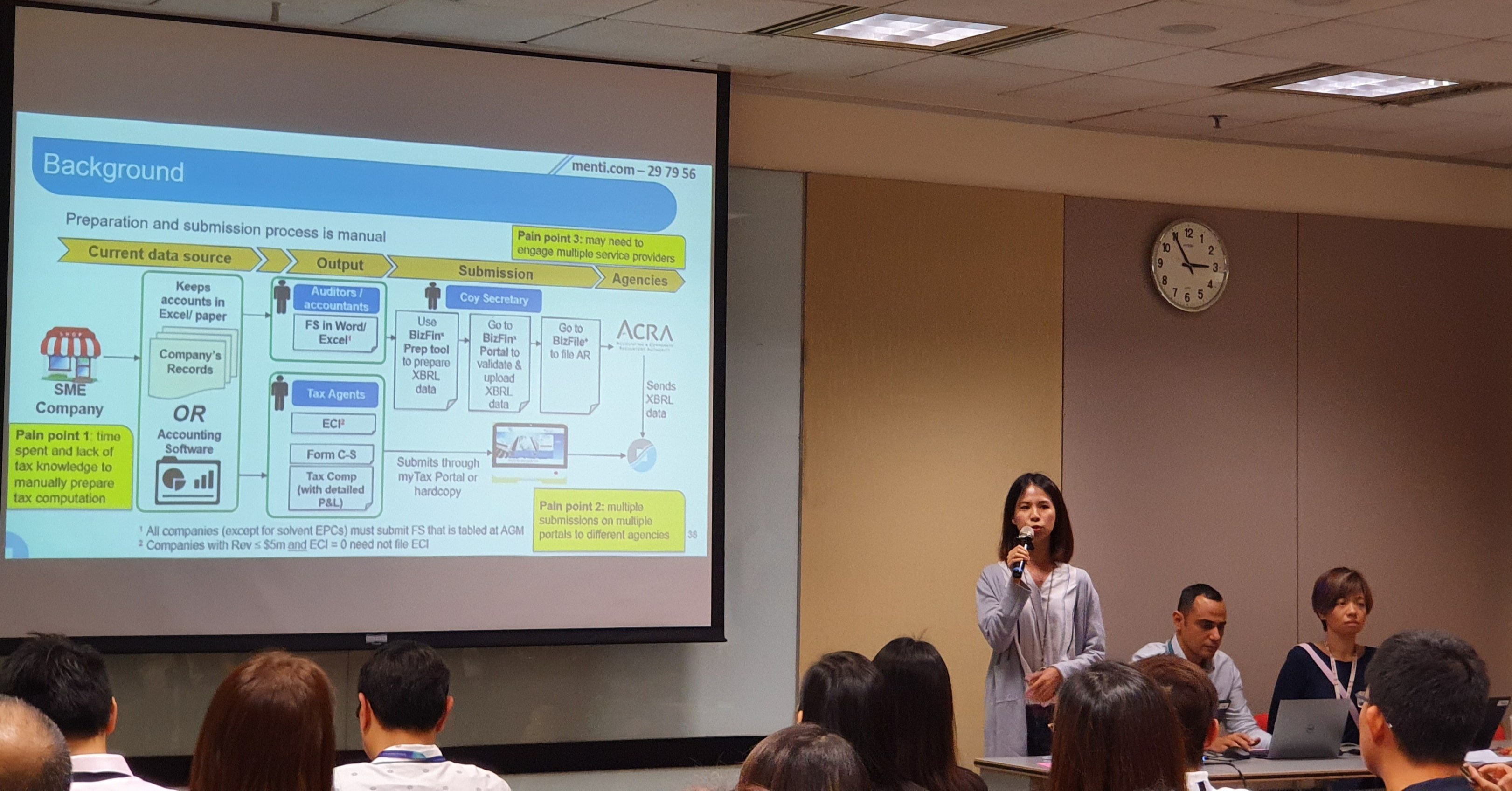 Ms Evelyn Lim (CTD-SVC) sharing about the seamless filing of Returns for SMEs, a collaboration between IRAS and ACRA.
As APIs cannot thrive in isolation, IRAS is working closely with other government agencies to identify and develop API solutions which will benefit citizens in fulfilling their statutory obligations with ease.
In areas relating to obligatory data submissions, the filing of "Corporate Tax Return (Form C-S) and Annual Return/ XBRL financial statements to IRAS and ACRA respectively can be costly and time-consuming. "The seamless filing of Returns is a game changer for SMEs that seek to file its Returns accurately and timely, reduce its compliance cost and improve productivity. Minimal preparation time is required and no prior tax knowledge is needed." said Ms Evelyn Lim from the Corporate Tax Services team at IRAS.
To help Infocomm Media (ICM) Vendors with ready digital solutions proven to deliver productivity gains to SMEs, IRAS invited Mr Ho Khee Yoke from IMDA to speak on the evaluation criteria for pre-approved solutions under the SME Go-Digital programme. ICM vendors can find out more about the programme here.
Future Plans
IRAS will be introducing more seamless filing initiatives for businesses, individuals and foreigners. Works are in progress to enable the submission of Form IR21 (Notification of a Non-Citizen Employee's Cessation of Employment or Departure from Singapore) via API, which would enhance the tax experience and "offer greater flexibility and efficiency to submit tax clearance in bulk directly from payroll software," according to Mr Goh Swee Leong from the Individual Income Tax - Foreigner and Clearance team.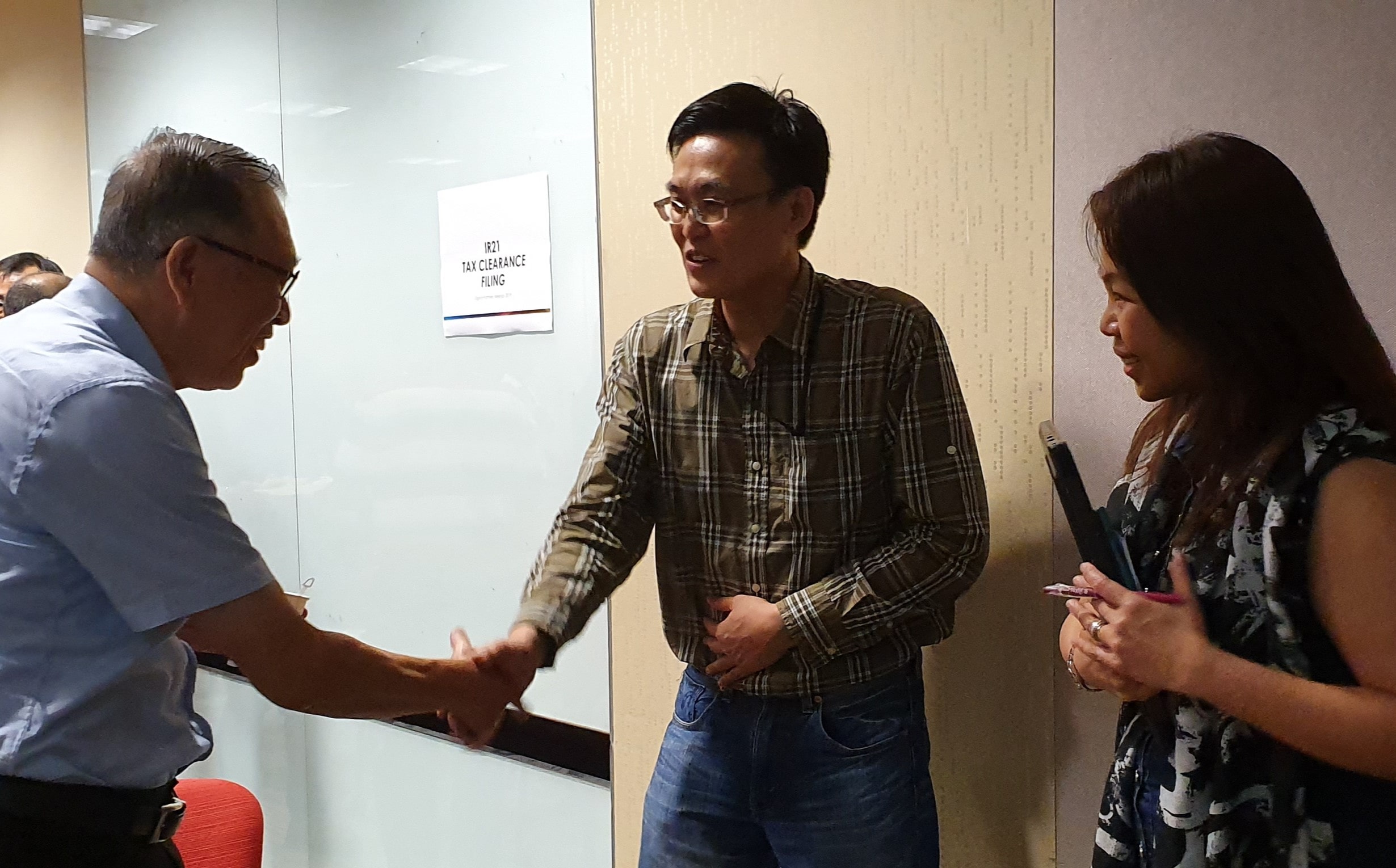 Mr Goh Swee Leong (IITD-F&C) and Ms Serene Tay (IITD-F&C) networking with a potential ICM vendor.
Plans are also underway to enable authentication and authorisation capabilities for API submissions by leveraging Singapore's National Digital Identity infrastructure (i.e. SingPass and CorpPass).
By working closely with digital partners across various industries to provide API-enabled solutions, IRAS continues to redefine the tax experience with digital innovation.
With 23 API plans on IRAS API Marketplace, we encourage more Digital Partners to explore our latest APIs or try them out in our Sandbox.