Want quick answers? Chat with our IRAS Bot to address your tax queries quickly and easily 24/7!
What you can do using IRAS Bot
Get answers to common queries on individual income tax, corporate tax, goods and services tax, property tax, stamp duty, withholding tax and employer tax matters.
Perform transactions securely such as check if you need to file an income tax form, check your tax balance and view your GIRO plan, request to waive penalties and many more.
*Most of these transactions require Singpass authentication for security reasons.
Chat with our officers online during operating hours (8am to 5pm, Mondays to Fridays, except for Public Holidays) if IRAS Bot cannot adequately answer your queries.
We are constantly enhancing our IRAS Bot. Do try out the IRAS Bot today and help us improve further with your feedback!
1. Click 'Chat with IRAS' at the bottom right of the webpages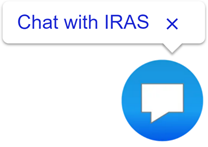 2. Select the type of tax query you have*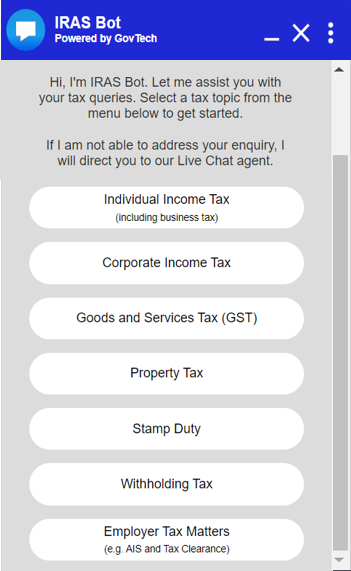 3. Select your preferred service, or type in your request
4. Complete Singpass authentication if require
*You may not see this if you access our IRAS chatbot from certain webpages