Gain insights into IRAS' work and how tax is administered in a variety of functions through our exciting internship opportunities.
To ensure that we are able to provide a meaningful learning experience, a minimum commitment period of 10 weeks is required. You can apply for an internship through Careers@Gov or your university/polytechnic career portals.
Taxpayer Services Division
[Service Experience Centre]
Be a part of the team that provides quality taxpayer service and advise to taxpayers in areas such as tax practices, application of tax laws and assessments through phone, interviews and live chats.
Through your internship, you can expect to:
Gain insights into Singapore's tax system
Gain competency in the application of taxes, build up your confidence with better communication and negotiation skills, which are important pre-requisites for future employment
Get the opportunity to use digital tools in customer service operations, be involved in projects including applying Design Thinking, Data Analytics and Behavioural Insights to improve services
We welcome undergraduates across various disciplines, including but not limited to Business Administration or Accountancy. We will provide training on basic income tax and/or property tax, operational procedures and call handling techniques so that you will be equipped with the necessary skills to handle taxpayers' queries.
[Taxpayer Services & Strategy – Service Analytics]
Be part of the team that studies and develops service strategies and use analytics in the service domain.
Through your internship, you can expect to:
Assist with environment research on topics in relation to service strategies and analytics applications
Build analytics models and conduct proof of concept for new end-user tools
Implement anticipatory and personalised services through the use of the latest analytics tools
Gain exposure in the usage of advanced analytics tools, programming languages and analytics techniques, such as SAS Enterprise Guide, Python, R, Excel VBA, SAS/SQL Programming, Text Mining, Visual Analytics, Forecasting, Segmentation, Predictive Analytics etc
We welcome undergraduates across various disciplines, including but not limited to Business Analytics, Statistics or Information Systems.
Property Tax Division
Gain insights on how valuation work is like as a potential career. You will get the opportunity to deepen your interest in valuation cases, modelling and property market developments.
Through your internship, you can expect to:
Assist with assessment work such as the preparation of assessment data, market rental analysis, site inspections and proposing of annual values.
We welcome real estate undergraduates, as well as those who have a general interest in how IRAS administers Property Tax or Stamp Duty.
Undergraduates with experience in modelling, data analytics and using of statistical tools and with a keen interest in stamp duty will have the opportunity to work on projects such as improving user experience on IT system interfaces and assisting with enhancing strategic processes to support policy implementation. You can also expect to be engaged in research work, conduct quantitative and qualitative research and assist with the preparation of market reports and presentations, including dashboards.
Corporate Development Division
Be part of the team lead IRAS' key transformation programmes and initiatives. You will also get the opportunity to apply the use of digital tools or technologies to enhance workplace productivity and processes.
[Strategic Planning]
Through your internship, you can expect to:
Undertake research relating to IRAS transformation strategic priorities
Assist in conceptualising and facilitating the preparation of workshops and engagement sessions to foster desired culture in IRAS.
We welcome undergraduates across various disciplines who have an interest in corporate strategic planning, organising projects or events, or a future career in policy-related work.
[Corporate Communication]
Through your internship, you can expect to:
Engage both online communities and internal stakeholders through targeted creative communications and purposeful digital campaigns
Be exposed to social media engagements, tax communications and internal communications to support the development and execution of staff communications
We welcome undergraduates across various discipline, including but not limited to Communications & New Media and Marketing, and those who have a passion in content creation and digital media design.
Infocomm Division
If you have a passion for technology and the willingness to learn, join the team to co-develop the next generation of ICT systems that improve how millions of taxpayers connect and interact with IRAS.
Through your internship, you can expect to:
Learn how IRAS applies technology by participating in an agile development team
Gain experience in the considerations behind developing high-quality enterprise-grade systems that are secure and robustBuild on a wide spectrum of core technology skills, which may include microservices, DevSecOps and cloud usage
We welcome undergraduates across various disciplines, including but not limited to Computer Science, as long as you have programming background and knowledge of Microsoft.NET/.NET Core Framework, ASP.NET, C#, XML, Web services, MS SQL, or other ER databases and their security considerations.
Compliance Strategy & Insights Division
Learn about how IRAS uses data in developing analytics solutions, how we formulate compliance policies to address emerging tax compliance risks or how we apply design thinking and related human-centred tools in real-life projects.
We currently offer 3 roles:
Analytics in Tax Administration: Be involved in the end-to-end process of gathering requirements, designing modelling approach(es), preparing data, modelling and model result presentation.
Compliance Policy and Research: Be involved in conducting research on emerging tax compliance risks and reviewing the compliance policies.
BI & Design: Be involved in leading design sprints to improve the effectiveness of IRAS' programmes, conducting workshops, preparing engagement and training materials to promote a human-centred mindset and corporate culture in the organization and participating in ongoing behavioural economic studies projects.
We welcome undergraduates across various disciplines, including but not limited to Business Analytics, Statistics, Computing, Information Systems, Economics or Psychology.
---
Hear from our intern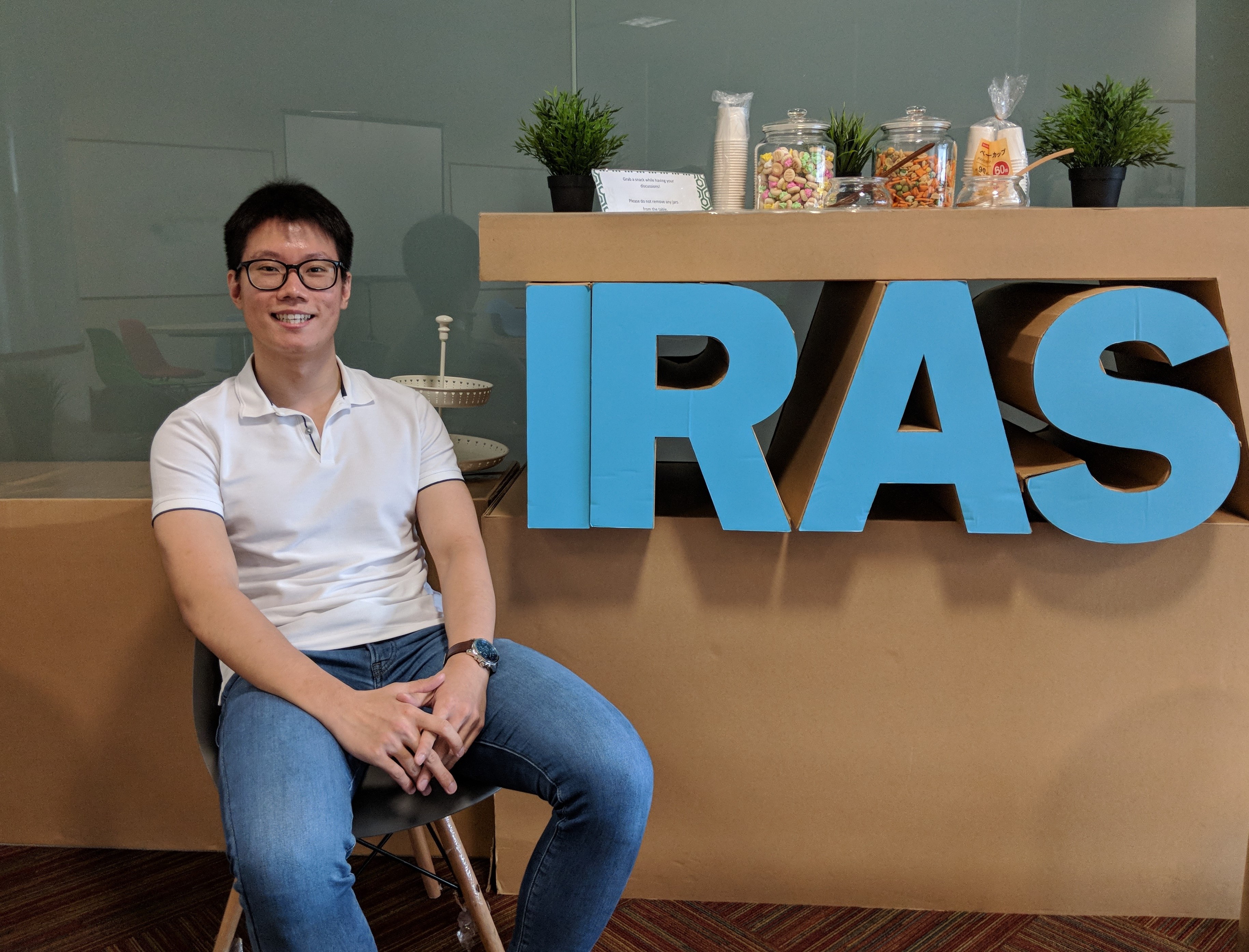 Jiong Yi, Infocomm Specialist at IRAS
During my internship with IRAS, I was part of the Infocomm team that developed a tech system to facilitate country-by-country reporting of tax information across our bilateral partner jurisdictions. The project involved understanding the international tax environment and mitigating any possible business impact resulting from information exchange policy and system works.
Today, I am an Infocomm Specialist and we are working to leverage new technologies such as Microservices and Cloud to enhance the tax filing and payment experience. Due to the scale of tax services and projects, collaborations with various industry players, government agencies and stakeholders are an integral part of my job.
What I find exciting in my job is the ability to innovate and experiment, and how this eventually contributes to the building of IRAS' next generation IT systems.